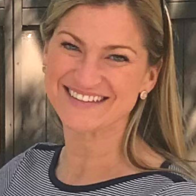 Join Tina for her presentation, "Courageously Authentic Leadership: Elevate Your Impact without Burning Out"!
DATE: TBD
Join us in learning the four 'C's' of Couraegously Authentic Leadership to unlock more possibilities, influence the outcome of any situation, and create massive results. Walk away with three powerful techniques you can apply today to elevate your impact while doing less.

Tina Parker is a seasoned coach and founder of Lead Outside the Lines, a coaching company guiding visionary executives and entrepreneurs to become Courageously Authentic Leaders who take action on their greatest ideas, ignite the hearts and minds of those they serve, and intentionally create a ripple effect of value.
With 20+ years as a leader and trusted executive advisor across private, public and non-profit sectors, Tina currently serves as a Lieutenant Colonel in the U.S. Air Force Reserve, as the Chief Customer Officer for the Department of Defense's DevSecOps team, Platform One, and as the Chief Marketing Officer of the acclaimed non-profit, The Mentor Project.
With a graduate degree in Leadership and Management, and certifications in Design Thinking, Executive Management, Transformational Mindset, Neuroencoding, and John Maxwell's Leadership Coaching, she is passionate about personal and professional growth that leads to results. Tina is a changemaker in communication, leadership, and marketing.
She has designed and executed communication and leadership initiatives for the U.S. Air Force, the U.S. Navy and the Department of Homeland Security. Her influence was instrumental in the Air Force's innovation catalyst, AFWERX, being named Fast Company's #16 Best Workplaces for Innovators in 2020, a first for a government organization. Her coaching and training portfolio includes C-Suite Executives, Venture Capitalists, and Executive Boards.