Imagine that you could leave your stressful job in that snow-covered city and come visit the beautiful, sunny  city of Tampa, FL. Imagine revitalizing yourself by engaging with and learning from some of the best and brightest women in the life sciences.
Imagine that when you talk, others listen intently and enter into important conversations that give you new ideas and motivation.
Imagine that you are a graduate student in STEM or a post-doc and you could talk to and ask questions of those who have diverse careers in life sciences that might interest you.
 Imagine that you are an HR professional at a life science company who needs to meet qualified candidates and you find them in Tampa!
Imagine that you have been so busy doing your job that you have not had time to stay updated on other scientific and technology advances in life sciences, but you could come to an event where you can get updates on hot topics from experts in those fields.
Imagine that you are an innovator with a great idea and can talk to folks who can help you get funding for that idea.  This is exactly the environment and experience  that you will find at Life Science Women's Conference.
At the last Life Science Women's Conference, people did not want to leave at the end of the final day. Conversations spilled out into the halls of the convention center, and people rushed to get one last visit to the exhibitors. It was truly an atmosphere that we have never seen before in our many years of attending conferences. This phenomenon validated our belief that women need this conference, and the value that they derive from it is unparalleled.
We invite ALL to come and be a part of the growing community that is Life Science Women's Conference. Unlike other conferences, you will not leave exhausted, but invigorated!
The Life Science Women's Conference (LSWC) creates an environment where women working or desiring to work in all areas* of life science** companies and academia can gather to network and collaborate with other women with regard to entrepreneurship, professional development, inspiration, funding, career enhancement, scientific and technical updates .  By identifying and working together to remove some of the obstacles that women working in the life sciences encounter, we can alleviate some of the human resource and talent shortage that these industries face, as well as help ensure that women can reach their full potential. Men are also welcome.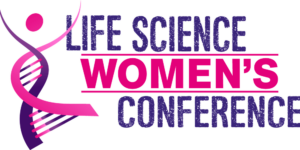 * "All areas" includes executive, finance, legal, human resources, diversity programs, operations, science, manufacturing, technology, logistics, distribution, quality control, quality assurance, marketing, sales, public relations, safety, regulatory, compliance.
**Life Sciences include pharmaceuticals, biopharmaceuticals, biotechnology, medical devices, software as medical devices, vaccines, cell therapy, gene therapy, contract manufacturing, basic research, clinical research and clinical trials, and industries that support them.
Explore what the Life Science Women's Conference has to offer!