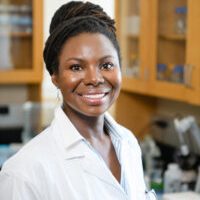 Join Renee for her panel, "A Unique Journey in Academia (to Advance Cell-Based Gene-Editing Approaches for Genetic Diseases Affecting the Liver)"!
DATE: TBD
In a story of overcoming adversity to become a scientist, Clemson Bioengineering Professor Renee N. Cottle will share her journey in academia and current research on a novel curative gene editing therapy for genetic diseases affecting the liver. Learn more about the Nobel Prize Winning CRISPR-Cas9 and more at this session.
Dr. Renee Cottle is an Assistant Professor of Bioengineering at Clemson University. She earned her PhD in Biomedical Engineering from the Georgia Institute of Technology and Emory University in 2015. She completed a T32 Postdoctoral Fellowship in the Cardiovascular Research at Medical University of South Carolina in 2016 and started her faculty position at Clemson in August 2016.
Her expertise is in gene editing, gene therapy, and nonviral delivery strategies. Dr. Cottle's research group is focused on cell-based gene therapies for inherited metabolic diseases of the liver. Her research addresses technical barriers to advancing novel gene therapies for genetic disorders.
Regarding her panel, The clustered regularly interspaced short palindromic repeat (CRISPR)-CRISPR-associated protein 9 (Cas9) system has proven to be the most promising gene editing tool available for therapeutic applications due to its facile design and robust targeting activity in human cells. Coupling it with a donor template offers advantages, though there are several barriers that impede its clinical application. Explore her and her team's research at the conference.